MBK MASCHINENBAU
Automation is the future for the concrete pipe industry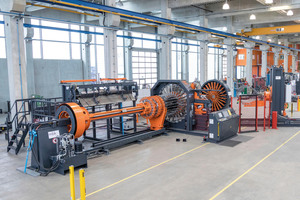 Figure: mbk Maschinenbau
Mbk automation solutions for the concrete pipe industry of the future
Figure: mbk Maschinenbau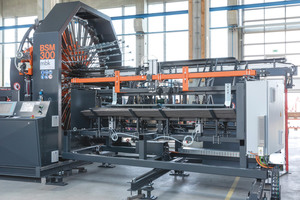 Figure: mbk Maschinenbau
The long tried and tested cage BSM 300 welding machine …
Figure: mbk Maschinenbau
It is always about being just the one step ahead: having solutions already at hand when a market signals that the times demand something new. With BSM, mbk has an innovative cage-welding machine in its program that ensures an efficient and economical daily production routine.
Made-to-measure automation solutions are an essential part in the day-to-day corporate operations of mbk Maschinenbau GmbH. At its headquarters in Kisslegg in Germany, mbk develops, designs and implements modern concepts for the reinforcing steel precasting, as well as the manhole and concrete pipe industry. The BSM cage-welding machine, due to its innovative technology and modular construction, is available with various automation solutions. 
BSM cage welding machine
The BSM cage-welding machine, according to the manufacturer, is the ultimate choice for the production of reinforcing cages, for the manhole and concrete pipe industry. It has long been tried and tested. The BSM technology and the customers' day-to-day production can no longer be imagined without it. Its application spectrum is broad – with its round reinforcing cages (straight or with spigot end and bell/socket), it can produce double cages, inner and outer, one after the other, oval, egg-shaped or jaw form, as well as special shapes such as round-oval-round (ROR). At present, eight different sizes are available; the cage diameters that can be produced range from 220 to 5,200 mm, depending on the machine type. Cage lengths of up to 7,000 mm are standard, and other lengths are possible on request. Tightest production tolerances for a precise and straight cage as well as its compatibility with any standard make the BSM ultimately suitable for everyday use.
With the cage welding machines BSM and BSM-ROR, mbk offers interesting automation solutions, ranging from simple automation accessories to fully automated production lines with buffer solutions and transfer of the reinforcement to the downstream pipe machine.
Wire straightening and cutting machine (DRA)
Longitudinal wires are processed on a wire straightening and cutting machine (DRA). The DRA family ranges from simple individual straightening and cutting systems of different gradations (DRA-C and DRA-E), to the new DRA-M multiple-wire-straightening and cutting system. The systems for straightening, cutting and bending reinforcing wire cover wire diameters from 4 to 20 mm. Automatic wire change in the DRA-M, featuring up to six rotors for various wire diameters, ensures smooth workflow. Production lengths up to max. 14 m and straightening speeds of up to 140 m/min are possible. Numerous optionally available additional features such as automatic linkage to the cage welding machines noticeably facilitate the production process.
Automatic longitudinal-wire feed
Feed of the longitudinal wires for the cage can take place automatically: optionally from the bundle (ALZ-B) or directly from coil (ALZ-C). Feed with this variety takes place individually, bar after bar and also makes possible feed of non-circular products.
The new version of type ALZ-M automatic longitudinal-wire feed opens up new dimensions for cage ejection: the new feed system enables insertion of all longitudinal wires required in only a single step – fully automatically – for all cage diameters that the machine can produce. The basic variety of longitudinal-wire feed here takes place with pre-cut-to-size longitudinal wires from the magazine, which can be filled with material up to one ton. Alternatively, here too, the model and combination with the integrated wire straightening and cutting system are possible – with processing directly from coil.
Multiple winding-wire guidance takes place with automatic and rapid wire change. The automatic winding-wire cutter allows automatic cutting after the welding process.
For removal and handling of the manufactured products, good solutions are also available.
Removal and transfer to handling
In addition to simple and electro-hydraulically adjustable cage-removal trolleys, several varieties for automatic handling of cages are available: Cage removal devices (KEG) for removal and temporary storage of the reinforcement cover the most diverse requirements; Cage removal and alignment devices (KFG) for removal, temporary storage and alignment of double reinforcement cages; buffer solutions for intermediate buffering of reinforcement and transport solutions for secure transmittal of reinforcement to the downstream pipe machine.
Software and hotline solutions
Machine control and the software solutions offered are all state-of-the-art. Linkage of the machine software to the offline workplace permits not only generation and evaluation of the production lists in the office. Recording of all machine parameters and settings as well as saving and evaluation of the production data are possible without any problem.
Hotline solutions for secure transmission of image-controlled customer support with completely new and innovative systems for efficient maintenance and repair with augmented reality and assisted reality make mbk one of the front-runners also for actively implemented service.
CONTACT
mbk Maschinenbau GmbH
Friedrich-List-Str. 19
88353 Kisslegg/Germany
+49 7563 9131-0