BHS-SONTHOFEN
Accropodes for the new Aberdeen South Harbour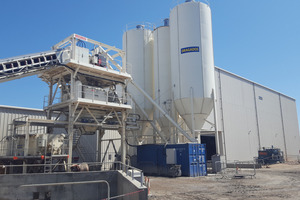 Figure: BHS-Sonthofen
Dragados relies on a highly modern mixing unit provided by Industrias Leblan with twin-shaft batch mixers (DKX) from BHS-Sonthofen
Figure: BHS-Sonthofen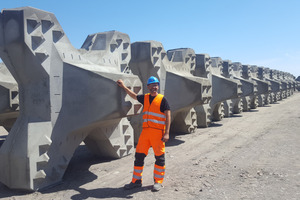 Figure: BHS-Sonthofen
In the Aberdeen Harbour expansion project, Dragados manufactures 16m³ accropodes
Figure: BHS-Sonthofen
Dragados UK & Ireland, a construction branch of the Spanish ACS Group, is using mixing technology from BHS-Sonthofen to produce concrete in the £350 million expansion of Aberdeen Harbour in Scotland. A total of approximately 9,000 accropodes are manufactured with the concrete and used as the outer armour for the north and south breakwaters. To this end, Industrias Leblan provided Dragados with a mixing unit including a BHS twin-shaft batch mixer.
Aberdeen Harbour is one of the busiest ports in the United Kingdom, serving Scotland's third largest city and significantly contributing to the local economy. Aberdeen Harbour Board is expanding its facilities in order to enhance the marine support capabilities and transform the port's ability to accommodate the trend for larger vessels. New facilities and associated infrastructure are currently being built to the south of the existing harbour.
Dragados UK uses mixing technology from BHS
Construction began in May 2017 and the project is due for completion in October 2022. To resist the action of waves on breakwaters and coastal structures, Dragados UK, the main contractor for the Aberdeen Harbour Expansion project, produces concrete elements that are named "accropodes". These building blocks appear like rocks and blend into the surrounding landscapes. Over the entire project period, some 9,000 accropodes are manufactured on a carousel production system. The accropodes are made in three sizes: 8, 12 and 16 m³ – with the 16 m³ mold being the largest to have been produced by an automated factory process, according to the supplier.
Dragados expects to have batched 245,000 m³ concrete by the end of the project. For concrete production, Dragados purchased a mixing unit from the Spanish supplier Industrias Leblan including the twin-shaft batch mixer (DKX) from BHS-Sonthofen. According to Dragados, the mixing technology turned out to be the perfect solution for the challenges the company faces. For instance, the concrete needs to reach a hardness of 40 Megapascal (MPa) within a certain time.
The twin-shaft batch mixer of type DKX rapidly produces mixtures with consistently high levels of homogeneity and is ideally suited for mixing processes with high output requirements. This concept has also proven to be superior in the port expansion project. Manfred Immler, Area Sales Manager for West Europe at BHS-Sonthofen, said: "Aberdeen Harbour expansion is an exciting and fascinating project in which all participants have worked closely and well together."
CONTACT
BHS-Sonthofen GmbH
An der Eisenschmelze 47
87527 Sonthofen/Germany
+49 8321 6099-231