IDAT
40 years of Idat: From punch card to global player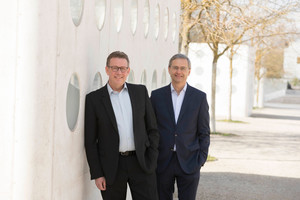 Figure: Idat
Proud of success: Managing Director Andreas Geisler and Managing Partner Reinhard Lackner (from left)
Figure: Idat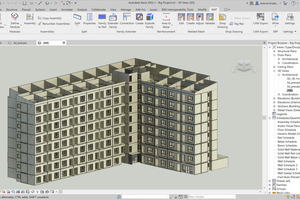 Figure: Idat
Software development from 2D CAD to precast concrete design on the BIM platform Revit
Figure: Idat
Founded 40 years ago by two students of the Technical University of Darmstadt as a two-man operation, Idat has long become an internationally active software company employing about 30 people. After all, the precast industry has come to rely on Idat's innovative software on a worldwide scale: a true success story with a bit of nostalgia – nowadays, we would refer to this company as a typical start-up business.
It all began when two students were waiting for their calculation results at the computer center of TU Darmstadt, which is very hard to imagine today, but was a matter of several hours back then. At least they had enough time to engage in a conversation and find out that they were on the same wavelength. Why not combine the programming experience of Dr. Hartmann and the civil engineering background of Mr. Landgraf and set up shop together, they were asking themselves. And this is what they did.
No personal computers existed in these "olden days"; instead, programs were written on mainframe computers. Users had to enter the data via a punch card reader and had to wait for some time before they received their results or drawings from a printer or plotter. Even at that time, these systems were already used to create installation plans and individual shop drawings for precast elements.
Satisfied customers for many years
Idat's first customers in this industry included Veit Dennert KG based in Schlüsselfeld and Ytong, the autoclaved aerated concrete manufacturer (now Xella). Both companies continue to be satisfied Idat customers to the present day, putting the continuously improved and expanded software suites to good use.
When Reinhard Lackner, a computer science student, did his internship at Idat in 1985, which was still an aspiring business back then, he was subsequently offered the opportunity to join the firm as a third managing partner in 1990 because Mr. Landgraf intended to gradually retire from active business. Lackner, who was 25 years old at the time, is still managing Idat's fortunes very successfully. Since Dr. Hartmann's retirement in 2018, Andreas Geisler has been the second managing director.
Yet 1990 was a groundbreaking year for Idat also for another reason since the company introduced AutoCAD as the new CAD platform. Lackner comments: "That was the right step forward because Autodesk's AutoCAD and Revit products have since become the absolute global market leaders." After some technical refinement, Idat succeeded, in 1998, in launching the programs exclusively as 3D applications based on AutoCAD Architecture, instead of just 2D. This included an extensive range of modules for designing walls (solid, double, thermal, and sandwich walls), floors (solid floors, precast, hollow-core and double-tee slabs), general precast elements (beams, girders, foundations, balconies, etc.) and stairs. These solutions were complemented by a stacking program and a palletizing software.
In 2010, the company also began to base some of its programming work on the Revit BIM platform. Autodesk Revit has since become the world's leading application in the BIM ecosystem. "Currently," Lackner explains, "Idat also offers its modules for designing precast elements based on this platform. Thus, customers are free to choose if their design should be based on AutoCAD, the CAD suite, or on Revit in the case of BIM projects. In any case, however, our solutions ensure a high degree of automation and users will benefit from a quick and safe 3D design process."
Latest addition to the range: Idat Revit Precast
Having decided, in 2016, to develop an ERP system customized to the needs of the precast industry, Idat now provides its customers with a one-of-its-kind, all-in-one solution. This end-to-end suite includes quotations, order management, a fully integrated technical design functionality, production planning, materials, warehouse and quality management, logistics, finance, and controlling. Lackner adds: "This solution is complemented by the cloud-based Precast360 platform, which enables the precast plant to exchange information with its customers and, for example, to implement the approval process on a fully digital basis."
The company also has ambitious plans for the coming years. The technical design portfolio, for instance, will be expanded and perfected further in both AutoCAD and Revit. As in the past, continuous software improvement will focus on specific customer needs. Idat has earned its reputation as a reliable partner who, in addition to first-class service, supports its customers in their journey into the digital future with customized tools, such as the Idat ERP system. What is crucial in this regard are the company's long-lasting customer relationships and thorough understanding of the industry, as well as closely following the market with its constantly growing technical requirements. The latest addition to the product range, Idat Revit Precast, also responds to this need by enabling customers to bid for BIM projects, which are specified to an increasing extent. Lackner comments: "Like any successful business, Idat is the sum of its parts. I am very proud of working with such passionate, long-standing, highly skilled people. I am sure that, as a team, we will tackle many more challenges together. And it should be as much fun as before to do our very best to meet the needs of our customers."
CONTACT
Idat GmbH
Pfnorstr. 10
64293 Darmstadt/Germany
+49 6151 7903-0