PreConTech
38,000 click connectors for Asian housing project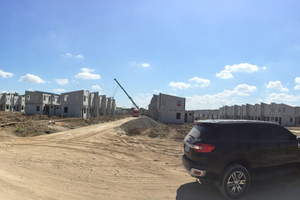 Figure: PreConTech
In Taytah, near the Philippine capital of Manila, construction of the San Jose del Monte Residential Project with 3,000 row houses is underway; similar project with 5,000 and 15,000 dwelling units of the same type are to follow soon
Figure: PreConTech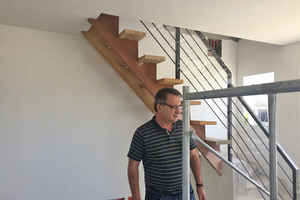 Figure: PreConTech
Dieter Rausch, Managing Director of PreConTech with more than 40 years of experience in anchoring technology of double walls, personally inspected the project site
Figure: PreConTech
PreConTech GmbH recently developed an anchoring system for protecting masonry units made of various materials from the impact of seismic and thermal activity and from the effects of wind. The development had been submitted as an entry for the Innovation Prize of the Supplier Industry for Concrete Components on the occasion of the BetonTage 2017 in Ulm, Germany (BFT had reported on this event in its 04/2017 issue); a world patent has already been applied for.
A modular block made of lightweight concrete with a built-in anchoring component is affixed to masonry rails. To attach it to columns, an anchor rail, embedded in a joint module by applying low compressive force, is dowelled to concrete columns or screwed onto steel columns. This joint module, owing to its low density, is intended to fail first in an earthquake event, thus preventing damage to columns and shear walls. The connection established in this manner is able to absorb movements in all three directions and can additionally be fitted with pinning for anchoring it in a floor/ground slab or in in a joist/floor slab.
Successful construction project in the Philippines
By now, the first construction project using this system has been successfully completed in Taytah, near the Philippine capital of Manila, for current construction of the San Jose del Monte Residential Project comprising around 3,000 row houses. Additional projects consisting of 5,000 and 15,000 dwellings of the same type are to follow soon.
For this project, around 38,000 click connectors will be required within the next three years, with an additional 17,000 for connection to interior and exterior walls. According to Markus Hennig, Vice President of Megawide Precast, the speed of erection has surpassed all expectations by far and, in this way, costs have been reduced for crane hire and wages.
The upper edges of the 49/30 PTA anchor rails, 100 mm long, are provided with openings on the left and right sides. For connection to the interior walls, two anchor rails with a flat steel plate are welded to the wall thickness of 100 mm. The click-connector is inserted in the opening and drops down. Subsequently, the washers are connected in front of the lips of the anchor rails, with sufficient compressive and tensile tightening, by turning the nuts; the walls can then be immediately loaded without using inclined columns. The actual manufacture of the wall slabs takes place in a field plant directly at the construction site.
Additional projects planned in India and China
Also by now, and not least because of the success of the above project, further talks have taken place in the Philippines with precasters and an earthquake technology consultant for autoclaved-aerated and lightweight concrete panels. The new developments aroused much interest: in particular, seismic connections with modular blocks of lightweight concrete, the circumferential joint module as predetermined breaking joint of low density, and sandwich panels with thin cover as non-loadbearing walls in skeleton construction.
In China, Dieter Rausch, Managing Director of PreConTech with more than 40 years of experience in anchoring technology for double walls, recently gave a presentation at Baoye Construction. This is a construction group with which a joint venture is planned and which has 70,000 employees and several carousel plants for the construction of double walls, double walls with interior insulation, and precast floor plates. Discussions included a number of special applications for double walls: for example, remote release and turning devices for turning elements from horizontal to vertical positions for very long double walls.
Another large-scale project of similar nature is planned in Bangalore in India in the near future.