Vollert receives Intermat Innovation Award 2012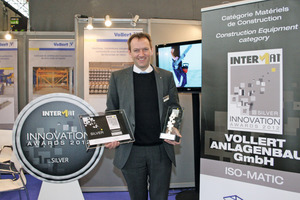 The Vollert booth showing the Innovation Award at Intermat in Paris: Philippe Marrié was very pleased about the Silver Award 2012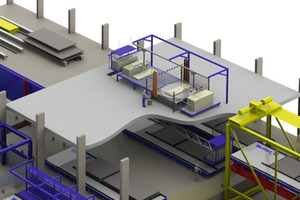 Drilling, milling and cutting using only one workstation. The processing station ISO-MATIC® enables the automated, economic manufacturing of core insulated precast elements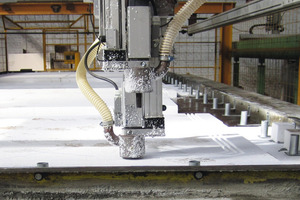 The Intermat in Paris (16.-20.04.), meeting point for the European construction industry is also considered an innovation platform for modern machines and plant components. An international jury of eleven industry experts from research and industry has awarded the leading fair starts, the most important innovations 2011/2012 the Intermat Innovation Award. The Intermat Innovation Awards are one of the most significant showcases for sustainable product innovations in the construction and construction materials industry.
On January 13th as part of the event Pré-Intermat in Paris, the top-class jury under the chairmanship of Patrick Bernasconi, President of the French industry association, selected at this juncture the processing station Iso-Matic developed by Vollert for the Silver Award 2012 in the category "Construction Equipment".
Automated manufacturing of energy-efficient precast elements

Energy-efficient precast elements are worldwide increasingly in demand. This has many reasons, not least the trend to a sustainable energetic construction. Automated manufacturing of core-insulated concrete elements requires however customized production processes in order to produce high-quality precast elements in large quantities even when highly organized work processes and short time spans are involved. The newly developed processing station Iso-Matic allows firstly the automated preparation, positioning and laying of the insulation, which was previously time-consuming manually done and thus lowering the productivity immensely. This ensures economic, resource-saving production processes, explained the jury that selected Vollert product innovation among a total of 80 candidates, at the award ceremony.
"Basic idea is the CAD-supported, economic manufacturing of energy-efficient precast elements by carrying out several processing steps, such as drilling, milling, cutting using only one workstation" said Philippe Marrié, competent product contact at Vollert. "Due to the Iso-Matic it has been possible to make work processes more efficient and resource saving, so that costs can be reduced and the plant productivity immensely increased. The Iso-Matic because of its space-saving design can be integrated into existing pallet circuit systems. The award fills us with some pride, and it is certainly an incentive to further expand our position as innovation leader."