OGS
Integrated software solution for the construction materials industry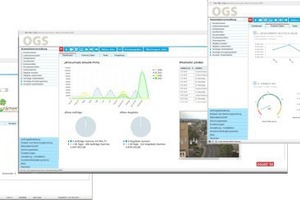 Figure: OGS
The OGSiD10 BusinessPack contains all basic modules such as administration of master data, order processing, procurement, accounting control, material management etc.
Figure: OGS
More than 30 years of experience in the construction materials industry characterizes the company OGS and its OGSiD software solutions. Many companies place their trust in the value-added seller in Koblenz, Germany – whose services range from business management consulting to software introduction, including after-sales service and support.
OGSiD10 as industry solution
The OGSiD10 BusinessPack – which contains all basic modules such as administration of master data, order processing, procurement, accounting control, material management, basic warehouse control and, optionally, TÜV-tested finance management – had already assured that its user companies were provided with many industry-specific functions. The ERP system can be upgraded at any time with various additional modules and features and can in this way be modified to meet various requirements and company sizes.
The extraction, processing, and upgrading of mineral raw materials as well as manufacture of construction materials and their marketing requirements, has placed strict demands on the ERP industrial solution. This solution was conceived and developed in close collaboration with prominent companies of the construction sector. The industrial solution contains all standard functions of the ERP system and offers extensions specifically tailored to the industry.
Many extensions
Growing cost pressure in the mineral raw materials and construction materials sectors poses the primary challenge in efficient structuring of the logistics processes concerned.
The route planning function of OGSiD10 ensures optimal route scheduling for a maximum degree of capacity utilization of transport vehicles and for convenient processing of freight, carrier functions and return routings. With the integrated freight-cost calculation function, surcharges and discounts for freight costs, energy, and packing can be displayed on a customer-specific basis. In addition, OGS software automates intercompany business transactions. Pallet accounts can be efficiently and reliably processed by the software load carrier management functions.
Support by flexible order recording and processing, together with the possibility of choosing packaging units (e.g., bulk goods, pallets, BigBag, sacks, etc.) all enable registration of orders – both customer- and construction-site specific – and generation of invoices. Functions such as administration of multi-company configurations and of construction-site and project administration, delivery status recording and archiving are standard in industry software solutions. A powerful cost calculation function in OGSiD10 enables handling of surcharges, as well as special prices and discounts relevant to specific plants and construction sites. The OGSiD material-call app enables customers to post material requisition orders to an ongoing construction-site and/or project order and to execute orders directly via smartphone from the construction site.
Ongoing development
To ensure high flexibility and efficiency in the company and to meet the requirements of modern workplaces, OGS now offers for Release 10 the application and integration of a Dashboard in the ERP software OGSiD. Current need for action, statistics, and detailed information are displayed on the start page of the OGSiD system to continuously remain up to date and to keep a clear overview of all proceedings. In addition, the task manager, as command center and supervisory unit, draws early attention to time-critical problems.
Web-client technology keeps users of this software up with the state of the art. There is furthermore the possibility of extending the already defined standard by additional individual requirements and processes by customizing – which of course is retained for any future release changes. Furthermore, OGS offers its customers a solid basis for the application and operation of Industrie 4.0 solution.