SYSPRO GRUPPE
HVAC floors for Germany's first residential building out of the 3D printer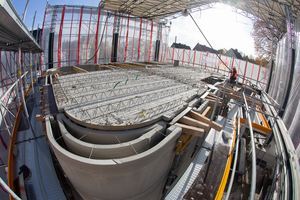 Figure: Syspro-Gruppe
Precise prefabrication of the Syspro HVAC floor elements ensures maximum fit
Figure: Syspro-Gruppe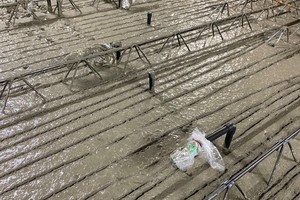 Figure: Syspro-Gruppe
After casting, the Aquatherm Black System registers for heating and cooling are protected from damage
Figure: Syspro-Gruppe
At the end of May 2021, Germany's first 3D-printed residential building was realized in Beckum in North-Rhine/Westphalia. But not only the way in which the walls were manufactured is highly innovative. The use of the cooling and heating system in the partially precast element floors, in combination with use of renewable energy, vividly demonstrates the future orientation of the project.
Architect Waldemar Korte was both the planner and site manager for the two-story single-family dwelling with a living area of around 160 m². His objective was to create a building that shows the potential of 3D printing for free plans, which nevertheless remains livable. The roundings of the building are accordingly limited to the external wall. In this way, the interior walls can be conventionally furnished.
For the floors of the two-story single-family home, Korte decided on HVAC floors from the Syspro member company Lütkenhaus from Dülmen in Germany.
Prefabricated HVAC floors for an optimal heating / cooling circuit
These are active floor elements already fitted in the plant with prefabricated Aquatherm Black System registers for heating and cooling. The registers are installed between the lattice girders, directly below the lower reinforcement layer of the element floors. As a result, the heating / cooling registers are protected from damage at the construction site after casting.
The connections for the supply and return lines are located easily accessible above the completed floor slab between the lattice girders. Therefore, subsequent connection of the floor slabs to each other to form the heating / cooling circuits as well as the connection to the heating / cooling circuit or the Tichelmann distributor was easily possible. The standard solution here is to fill all system components, including partial pipe connections, with compressed air already before installation of the element floors with an optical control system to ensure intactness. Accordingly, the tightness could therefore be checked at all times.
Next, the floor elements ready for installation and connection were transported from Dülmen to the construction site in Beckum. The low weight of the thermally activated floor slabs weighing only around 125 kg/m² (with the standard slab of only around five centimeters) facilitated the transport and made loading of several floor elements on one truck trailer possible. The high precision of prefabrication of the floor elements ensured a high measure of fit and considerably reduced the installation time. Time could also be saved by elimination of the otherwise necessary installation of the pipe system.
 "The interaction of close-to-surface concrete core activation with the ventilation system and the air-heating pump ensures an energy-efficient heating concept for our low-energy building," explains architect Waldemar Korte. The completed residential home will approximately conform to building energy standard KfW-55. The fact that the building at the end of its life cycle will be almost completely recyclable rounds off the future orientation of the project and supports the claim f sustainability.