Aerolift presents new modular vacuum lifter
28.07.2022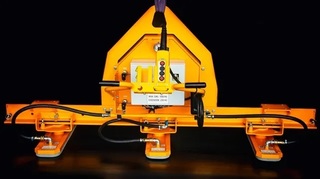 Figure: Aerolift
Aerolift adds the EU-series to its customised lifting solutions. This way, Aerolift wants to satisfy a wish that has existed on the worldwide market for some time: an affordable lifting solution for relatively simple applications.
Robert Lemm, CEO of Aerolift: "The EU series is intended to provide a wide range of solutions within a certain standard configuration. This allows Aerolift to deliver higher quality in a shorter time and at a lower price."
Applications for the EU-series
The EU-series are for small airtight products up to six tons. Products that are picked up by an overhead crane or another electrically driven lifting machine. Think of precast concrete elements, metal plates, and pipes.
Design modular vacuum lifter
An EU vacuum lifter consists of at least two modules: a vacuum unit and a suction pad. Additionally, you have a beam, crossbeam, and several options. Each module consists of a few options to choose from. The Aerolift sales team or the regional Aerolift agent will help to find the right configuration to make the most suitable lifting solution.
Hybrid solution
Within the standard EU-series, customisation is limited. However, a hybrid solution is also possible. A combination of configurable and customised. For example, an EU vacuum lifter with customised suction pads.
Future modular designs
In the upcoming months, Aerolift will also add the ES-series. The ES-series is for heavier products up to twenty tons. With its elongated shape, this lifter is suitable for long products, such as steel plates and pipes.
CONTACT
Aerolift
Parmentierstraat 2A
3772 MS Barneveld/Netherlands
+31 346 35 43 33