The Big5 Dubai
The largest Middle East construction trade show just around the corner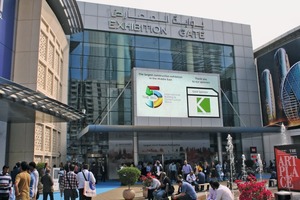 Figure: BFT International
This year, the largest construction trade show of the Middle East takes place from 21 to 24 November in the World Trade Center Dubai
Figure: BFT International
The Dubai construction industry never stops growing: according to the BNC market study "Dubai Construction ­Market 2016," commissioned by Big 5, the largest event of the construction industry in the Middle East, 3,700 projects with a total value of around 400 billion USD are currently underway.
The report shows that the Dubai construction market is definitely on an upward curve. Although around 21 % of all projects are currently on ice, a large number – estimated at a value of 100 billion USD are currently in an advanced construction stage. Noteworthy high-quality projects now under construction include the Sobha Hartland development, the Royal Atlantis Resort and Residence – Palm Jumeirah and the Innovation Hub PT-163 – and Dubai Internet City, with a value of more than one billion USD each.
According to BNC, around 77 % of all project values in Dubai add to a total of 320 billion USD. These include industrial and residential estates, educational and health facilities, hotel and the restaurant industry, recreational and relaxation facilities, religious buildings, shopping facilities, and municipal buildings of mixed use.
Growing population and ­public investments
Josine Heijmans, Event Director of Big 5, comments: "A growing population, the tourist sector, significant public investments such as the Dubai Plan 2021, and the Dubai Expo 2020 promote the local construction industry."
Today, Dubai's population is about 2.46 million and will reach some 3.4 million by the year 2020, which amounts to an annual population growth of well over 8 %. In addition, the Emirate continues to develop its status as a major hub for international travelers in the Arab world. Last year, Dubai was host to 14.2 million overnight guests and is aiming for a figure of 20 million by the year 2020. Josine Heijmans emphasizes: "This significant rise will place a great burden on the municipal infrastructure, resulting in the need to significantly expand the existing capacities."
The government of Dubai has sketched out its Plan 2021, which includes the development of Dubai into a sustainable Smart City. The Emirate is preparing to welcome the 25 million expected visitors to the first World Expo in the Middle East, 70 % of whom will come from overseas. Total expenditures for infrastructure projects associated with Dubai Expo 2020 will reach 18 billion USD, with estimated development costs for the surrounding area of Dubai South estimated at between 8.1 and 8.7 billion USD.
New hall layout with defined product sectors
Referring to the "Dubai Construction Market 2016" study, Big 5 event organizer DMG Events Middle East, Asia & ­Africa, states that the development toward smart and sustainable solutions and the introduction of new building regulations motivate companies to search for new, innovative product and service providers. To satisfy this growing need, Big 5 welcomes its exhibitors this year with a new hall layout featuring defined product sectors that will make visitors' product searches easier. For the upcoming Big 5, which takes place from 21 to 24 November in the Dubai World Trade Center, more than 3,000 exhibitors and around 75,000 trade visitors are expected.
"There is no other trade show that offers the possibility to meet key decision makers and industrial professionals and to view thousands of products of local and international manufacturers," continues Heijmans. During the trade show, visitors can take part, free of charge, in a selection of 75 CPD-certified seminars and 30 live guided tours. The latest developments, innovations, and practices featured in a day-long event on outstanding achievements in construction bring the leaders of industry together.
"Made in Germany" ­continues to be respected
German companies have also discovered Big 5 for themselves, since the show offers the most efficient and quickest entry into this lucrative 400 billion USD market. After China, Turkey, and Italy, Germany is the strongest representative at Big 5. Once again four federal states from Germany (Baden-Württemberg, Bavaria, Hesse, and Saxony) are participating, and the number of exhibitors has again increased over the previous year. "Made in Germany" continues to enjoy the greatest of respect in the Arabic world.