STOCRETEC
Structurally effective concrete replacement systems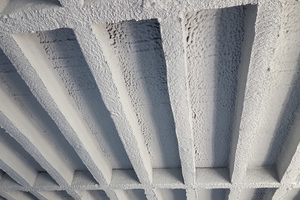 Figure: Betos GmbH
The Stocrete TS 203 wet spray mortar was used to restore the load-bearing capacity of the ribbed floor of the Balingen secondary school
Figure: Betos GmbH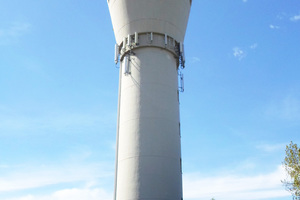 Figure: GSB Haungs GmbH
Stocrete TG 203 repair mortar was used for repairing this water tower
Figure: GSB Haungs GmbH
For his projects, the planning engineer determines the principles and procedures required for the repair of each building component. In this regard, he evaluates whether it is a structural repair. If the weakened cross-section still is sufficiently load-bearing, only cosmetic cross-sectional additions and a permanent protection of the reinforcement against corrosion is required. Otherwise, the full cross-section of the load-bearing component has to be repaired by means of a class R2 to R4 concrete replacement system that is adapted to the substrate and in accordance with EN 1504-3.
Generally, concrete replacement systems of class R4 are used for high-quality concrete grades. They must be capable of absorbing and/or transferring occurring strains.
Concrete replacement system of class R4
The R4 product range in accordance with EN 1504-3 of Stocrete comprises, among others, the Stocrete TS 203 wet spray mortar, the Stocrete TS 100 dry spray mortar and the Stocrete TG 203 repair mortar for hand application. In addition to the European requirements, these polymer-modified mortars are certified as M3 mortars in compliance with German regulations and are subject to voluntary external quality control. They are suitable for vertical as well as overhead application and can be applied partially as well as on large-scale. The product line is completed by the mortars Stocrete TG 114 and Stocrete TG 118 for structural repair of floorspaces.
Non-flammable and suitable for so-called LAU facilities
The repair mortars are non-flammable and thus, like the surrounding concrete, make a significant contribution to the fire protection concept of a building. The concrete replacement systems Stocrete TS 100, Stocrete TG 203 and Stocrete TS 203 are suited for restoring and subsequently increasing the fire resistance of concrete components in accordance with the classification REI 90 pursuant to EN 13501-2. In addition, they can be used as embedded anode mortar for the repair principle of cathodic protection against corrosion. Their outstanding mechanical properties allow their use as concrete replacement, to level out unevenness of the substrate and to increase the concrete cover in case of subsequent structural reinforcement using CFRP laminates. Moreover, Stocrete TG 203 and Stocrete TS 203 are granted with a national technical approval for concrete repair in so-called LAU facilities and gas stations.