REVELSTONE
South African cast-stone producer geared for growth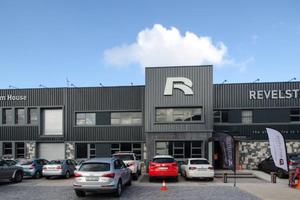 Figure: Revelstone
Adam House Revelstone's HQ - new building façade and paved road verge
Figure: Revelstone
Cape-based cast-stone producer, Revelstone, believes that a bright future beckons the South African cast stone manufacturing industry.
Underscoring its commitment to an expanding market, the company launched several new products during a PPC-sponsored open day on August 2nd. It has also invested liberally, adding to its recent showroom upgrade with a redesign and makeover of the exterior road-facing façade of its HQ premises, Adam House. Moreover, the company is committed to upgrading its plant and equipment during the coming year.
Founder and chairman, Andrew Cyprianos, says Revelstone was built on optimism and faith in positive outcomes: "Everyone advised me when I established the business 26 years ago that I was bound to fail. We are in a similar position today. While others pull in their horns and cut back on investment, we believe that the current downturn provides the ideal opportunity for renewal and regeneration. We could easily have continued with our old showroom and building façade and banked the money. But we are in the business of beautifying and remodelling the built environment, and we felt if we can't renew own space how can we invite others to do so."
New Revelstone product range
Revelstone's new façade was modernized by combining Random Stone cladding and off-shutter concrete with steel cladding and new lighting for an attractive nightfall frontage.
"In addition we redesigned our road verge and parking area which was relaid by Progressive Paving. It showcases our edging, kerbing, drainage pavers, demarcation pavers, borders and inlays in an enticing display; and over time it will demonstrate how well our wet cast cobbles and pavers wear. A key element in the upgrade was an attractive new front entrance which allows easier access to our new showroom and incorporates a modernized step as well as a ramp for wheelchairs and sample trolleys," advises Cyprianos. Revelstone's new product line-up includes three newly designed Granite finished cobbles, Exeter, Trent and Tuscan, two large pavers, Devon Straight Edge, a new Stone cladding, Cotswold, and a new kerb/step, Oxford. "As always our new product range is based on input from the architectural community, consumer demand, and modern trends in landscaping design," concluded Cyprianos.
Family-owned, Revelstone has been producing customized cast-stone products since 1993 for both the domestic and commercial markets. The company uses traditional masonry skills combined with modern moulding techniques to painstakingly produce master moulds from original rocks and stone. This hands-on approach allows the creation of custom-made products, enabling Revelstone to supply pavers and cladding uniquely tailored to its clients' specific requirements.
Text: David Beer