LUCEM
Smooth translucent concrete presented for the first time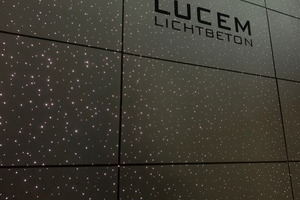 Figure: Lucem
About 700 light-transmitting fibers per square meter have the Lucem Starlight panel shone with the visual effect of a starlit sky
Figure: Lucem
Lucem has now successfully managed to produce translucent concrete panels with a smooth surface that is similar to fair-faced concrete. Lucem is presenting this innovation at the Architect@work show in Hamburg held from September 04 to 05, 2019.
The standard shade of the Lucem Starlight panels with smooth surface is gray; individually they can be colored in any shade. For the first time in the world, the smooth Lucem Starlight panels were used in red and black for the redesign of a façade at a production facility in Krefeld-Uerdingen belonging to the Lanxess specialty chemicals company.
The exciting thing about the material Lucem translucent concrete is the combination of the solid material concrete in interaction with the lightness of light. Embedded light-transmitting fibers are transmitting the light from the illumination on the back to the surface and have the translucent concrete in the twilight and in the dark shone from the inside out in a fascination way. As a result, the Lucem Starlight panels provided with 700 light-transmitting fibers per square meter and a fiber diameter of 1 to 3 mm have the visual effect of a starlit sky.
Numerous applications for indoor and outdoor use
Lucem translucent concrete is weather- and UV-resistant, resistant to abrasion, non-flammable and complies with construction material class A1. Therefore, it is suitable for indoor and outdoor use, providing for special lighting effects simultaneously.
Lucem translucent concrete panels can be processed like natural stone panels and can be used in many architectural applications. Equipped with the LED-based lighting technology, Lucem translucent concrete can be illuminated in white or colored light. Light scenarios as gradients or alternately colorful and in sync with music are also possible. In addition, Lucem GmbH supplies customized lighting technology solutions as well as complete mounting accessories for any requirements.
CONTACT
Lucem GmbH
Philipsstraße 8
52068 Aachen/Germany
+49 241 4468353-0