ELBE DECKEN
Serialized construction with prestressed floor slabs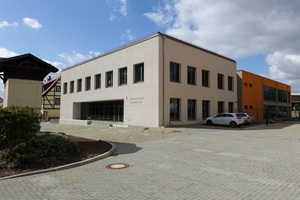 Figure: Jens Christian Giese_IPROconsult
For a primary school in Wermsdorf, Germany, HVAC floors with concrete-core activation were used
Figure: Jens Christian Giese_IPROconsult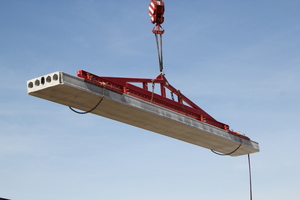 Figure: Elbe Decken
Around 240 HVAC floor elements with 26 cm thickness and spans of 8.3 m were installed
Figure: Elbe Decken
In school construction, where the focus is on functionality, precast prestressed floor slabs are increasingly used. The aim is to ensure high delivery reliability, cost savings and the possibility of flexible space utilization.
Many school buildings are currently in need of rehabilitation, conversion or new construction measures. One major challenge is here to implement the projects economically and with on-schedule delivery, but without compromising quality – despite rising construction costs and personnel shortage. As solution, serialized and modular building are brought more and more into focus: precast elements are quickly installed and also require less material and fewer personnel on the construction site. In addition to the high quality of factory-controlled production, this approach reduces costs.
Prestressed construction in modern school-building
In addition, they can be manufactured to support considerable loads of up to 12.5 kN/m2 over their long spans. The floors in school buildings, according to DIN 1055, have very high load-carrying capacity (5 kN/m2), which is nearly double, for example, that of residential buildings, with around 2.7 kN/m2.  In the initial planning stage, suitable cross-sections and floor types are determined and manufactured to the specifications of the individual construction project. The space below the wide-span floors can be partitioned as desired. The spans of the floors measure in general between 8 and 16 m, in some cases up to 18 m.
Most prestressed concrete floor slabs are manufactured with hollow cores. They therefore have relatively low dead weight, which lies up to 40 % below the standard of other constructions such as in-situ floor slabs. Structures made of prestressed concrete are therefore generally subjected to less loading and may be regarded as slender systems, saving both material and work steps. Erection is implemented within only a few days (approx. 500 m2 per day), as a rule independently of weather. Temporary supports or yokes are not required. The loadbearing surface is established by casting the joints between the parallel-laid slabs and by casting the peripheral tie on which continued building could immediately proceed. Depending on the project and the course of the building processes, construction time can thus be reduced by several days – and when compared to in-situ, as much as by several weeks. Depending on whether it fits the architecture, both small school buildings and large building complexes can be executed completely with prestressed concrete floor slabs. The following examples give an impression of this approach.
Large spans for a school complex
A large school with around 20,700 m2 of GFA for up to 1,800 students was executed with prestressed concrete floor slabs within 1.5 years. The complex comprises two four-story buildings, a secondary and an upper secondary school, as well as a two-field sports hall. For the polygonal school buildings, which are mainly based on a rectangular site plan, a total of 10,000 m2 of prestressed concrete floor slabs was used. With spans of 12.67 m, support of live loads of up to 3.0 kN/m2 is ensured. The following were used: floor slabs and cross-sections of type Jumbo floor (EID 50), solid-concrete floor slabs (EMD 20) and residential building floor slabs (EFD 20/25).
Primary school with environmentally-friendly climate floor slabs
For a much smaller primary school in Wermsdorf, Germany, the unfinished building  structure, completed in October 2018, featured HVAC floor slabs – a special floor slab with concrete core activation: i.e., with an integrated cooling and heating system that contained continuous water piping. Because the school building was to be implemented as a zero-energy building, around 240 HVAC floor elements with 26 cm thickness and spans of 8.3 m were installed for a total GFA of 2,420 m². They moreover eliminate the need for TGA systems, and services offer a natural indoor climate without draft. The climate floor slab, as resource-saving construction element, has contributed here to satisfy the considerable sustainability requirements imposed (EnEV, eco balance) and to keep costs low in subsequent operation of the building.
Correct application decisive
In order to fully exploit the benefits of serialized building elements, correct planning and execution is requisite. A technically competent manufacturer should develop a project-related solution in cooperation with the responsible structural engineer. When a number of essential aspects are observed in planning, construction site logistics and installation, procedures can be streamlined, project costs optimized and, at the same time, sustainable building quality with large spans implemented.