FBF BETONDIENST
Save the date: 65th BetonTage with megatrends and new partners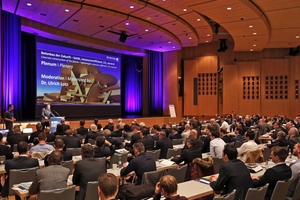 Figure: BetonTage/photodesign_buhl
Dr. Ulrich Lotz, Managing Director of FBF Betondienst, will also moderate the 65th BetonTage in Neu-Ulm
Figure: BetonTage/photodesign_buhl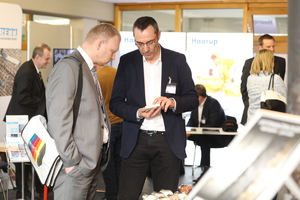 Figure: BetonTage/photodesign_buhl
In the accompanying technical exhibition of the supplier industry, more than 2,000 participants of the BetonTage will traditionally obtain information
Figure: BetonTage/photodesign_buhl
The upcoming BetonTage will take place from 23 to 26 February 2021, traditionally in the Edwin-Scharff-Haus Congress Center in Neu-Ulm, Germany, under adherence to the necessary safety precautions. The largest European  specialized congress of the concrete and precast industry focuses, for one, on continuity and will in its 65th edition, offer a still broader technical program, a comprehensive information exhibition by the engineering, software and supplier industry – as well as with new plenary sessions and partners.
Thus, for example, the prestigious Concrete Architecture Prize will be awarded for the first time within the scope of the event. All four honored firms will personally present their prize-winning concrete structures on the fourth day of the congress at the plenary session "Concrete in Architecture." As keynote speaker, the Swiss architect Max Dudler is expected. At a newly conceived exhibition, manufacturers of high-quality concrete elements and finishing companies will have the opportunity to present their expertise and products. More than 500 architects and planners have visited the platform already in 2020.
Also new is the co-sponsorship of the BetonTage by the Federation of the German Construction Industry in Berlin. The speech by HDB President Peter Hübner on the future of building, at the BetonTage 2019, and the "Future Day Building Industry," organized jointly this year with the Association of the Baden-Württemberg Construction Industry, have paved the way for this. On 24 February 2021, the HDB Vice President Dr.-Ing. Matthias Jacob will assess the consequences of the corona endemic for the construction industry. He is preceded by the chief economist of the Commerzbank, Dr. Jörg Krämer, who evaluates the overall economic perspectives for Germany and Europe.
Important professional stimuli, apart from the plenary sessions, are provided by the product-specific sessions which, once again, were coordinated by the relevant trade associations and industry organizations. They cover all significant segments of precast concrete components and range from lectures on structural precast construction to cast stone, concrete products for road, landscape and garden construction, include underground and sewer construction, lightweight concrete and small wastewater treatment systems, all the way to application-oriented research for concrete. The lectures and presentations given within the scope of the Practice Workshop with focus on building construction will once again address issues of everyday business. South Tyrol, as guest region, will share some insights into the concrete and precast sector there. Prof. Dr.-Ing. Manfred Curbach of Dresden University of Technology will show as Co-Opener, in his address, the close interrelationships between the natural and the built environment with all their processes within and with each other.
The new program will be available from October 2020 at www.betontage.de.