BT INNOVATION
New aluminum shuttering for the production of precast elements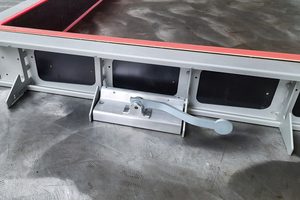 Figure: B.T. innovation GmbH
The MultiForm Alu in standard version with a shuttering height of 198 mm ...
Figure: B.T. innovation GmbH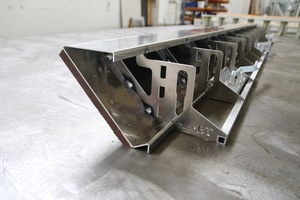 Figure: B.T. innovation GmbH
... and as a special solution in a version with a 45°-angle
Figure: B.T. innovation GmbH
Increasing demands on formwork systems and plant equipment used in the production of precast concrete elements require employers to implement additional occupational safety measures.
In particular, when placing formwork manually, using cranes is often absolutely necessary so as to meet the requirements of regulations for load handling. Nevertheless, the handling of cranes is relatively time-consuming and slows down the production process. To solve this problem, BT innovation has further developed the patented MultiForm formwork system.
MultiForm Alu
The new MultiForm Alu is a lightweight, but dimensionally stable and sturdy shuttering carrier made of specially coated aluminum. Due to the reduced dead weight, the MultiForm Alu weighs less than half that of other shuttering carrier systems, even with the formwork facing already mounted. As a result, the MultiForm Alu not only ensures compliance with the German load handling regulations for all shuttering heights, but also reduces the expenditure of work for shuttering and demolding considerably.
The low dead weight enables manual assembly, demounting and transport by one person only, even in case of greater shuttering heights of up to 40 cm. As with every MultiForm formwork, the shuttering height can be adjusted any time by using another formwork facing. In combination with the patented MagFly magnets, the MultiForm Alu can be moved easily and positioned precisely on the steel surface. An additional and usually elaborate sealing process, for example, using silicone or other sealants, is no more necessary.
Easing the burden on health
Apart from the simplified manual transport and the consequential elimination of crane and lifting systems, the focus is above all on easing the burden on workers' health. Repeated, heavy physical labor, in particular, the lifting of heavy loads on the work station, often has a negative impact on the worker's state of health. The job performance of the employee drops and acute back pain frequently leads to long-term health problems up to sick leave.
A reduction of the loads can counteract such effects at an early stage and thus being an adaption to the aging workforce. It also has a positive effect on employee absences due to illness and plays a key role in occupational health management.
Funding opportunities
As the main focus is on the health of the employees and an improved occupational safety, the MultiForm Alu qualifies for several national subsidy programs, depending on the country or federal state.
CONTACT:
B.T. innovation GmbH
Sudenburger Wuhne 60
39116 Magdeburg/Germany
+49 391 7352-0