SH MINERALS
Marble grains for the concrete industry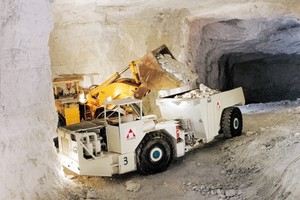 Figure: sh minerals
Erzgebirge marble is quarried in Germany's highest open-pit mine in Hammerunterwiesenthal in Saxony, by open cast and underground mining
Figure: sh minerals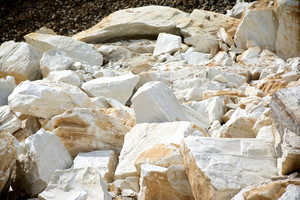 Figure: sh minerals
Following removal by dump trucks, rock blocks weighing hundreds of kilos each are brought to the processing plant
Figure: sh minerals
Carbon footprint, CO2 balance and similar keywords are or should be a constant companion of every entrepreneurial decision. Raw materials close to construction sites are part of this outlook and help to improve the carbon footprint of one's own company. Probably the most famous marble deposits in Europe lie in the Carrara region in Italy. But high-quality white marble is also found in Germany: the Schön + Hippelein Group has access to the largest deposits of highly crystalline marble in Germany. Marble is quarried, crushed and initially enhanced in three locations in the Erzgebirge (Ore Mountains) in Saxony in Germany.
Marble made in the Erzgebirge Mountains in Germany is a metamorphic crystalline carbon rock. Similar to Carrara marble, Erzgebirge marble is bright white in color, with only a few dark inclusions. But Erzgebirge marble is older and more compact than Carrara marble (approx. 500 million years old) and is therefore extremely resistant to frost. However, owing to its high joint density, it cannot be extracted in blocks. As a result, the raw material is primarily processed into chippings, dried grains and fillers. The application areas accordingly range throughout the concrete and chemical industries, the paint and varnish-manufacturing sector, and extend to the plaster and plastics industries.
All standard rock grains are available
Erzgebirge marble is mined in the highest open quarry in Germany: in Hammerunterwiesenthal, a district in the well-known Saxon ski resort of Oberwiesenthal. Using a drill rig, several dozen deep holes are drilled into the rock at regular intervals, almost perpendicular. These holes are then filled with explosives. By precise calculation of the blast, the marble is reduced in size in such a way that it is separated from the rock and can be picked up by bucket loader. Following removal by dump truck, the rock blocks, weighing several hundred kilograms each, are conveyed to a processing plant where, in a complex system of crushers, screens and mills they are reduced and classified into standard industrial sizes.
Erzgebirge marble is not only mined in open pits, but also underground. The combination of open-pit and underground mining, ensures obtaining of large quantities and always the best quality at any time – independent of the weather conditions and also during periods of frost and snow, which guarantees supply security for customers. Erzgebirge marble is available in the standard grain sizes for application in concrete.
Wide range of possible applications
The rock grains are marketed and delivered by the company sh minerals GmbH, which also belongs to the Schön + Hippelein Group. This company sells fillers and granular material from group-owned production sites and is one of the major European suppliers in this sector.
The high-performance addition to concrete, sh_compact, is primarily suitable for use in precast and prestressed concretes. The product sh_easyflow is also used for precast concrete elements and, in addition, for SCC and easily compacted concrete. Both products, moreover, can be used as substitute for fine quartz powders in UHPC production. Other products such as sh_stoneash are delivered to cast-stone and concrete-pipe manufacturers as well as to ready-mix concrete plants as substitute for flyash.
The product portfolio is rounded off with products for other industrial sectors, such as decorative stones, natural grains, fillers and lightweight fillers, lime hydrates, fodder and fertilizer lime, road filler, flame retarders, perlite, alumina silicate and Aeropor hollow spheres.
CONTACT
sh minerals GmbH
Im Waibertal
89520 Heidenheim/Germany
+49 7328 9615-50