LIAPOR
Lightweight concrete for Vienna music house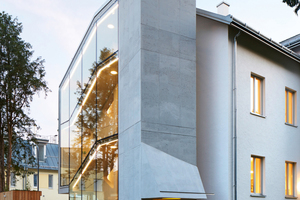 Figure: Stephan Trierenberg
The elevator shaft made of Liapor lightweight concrete contrasts sharply with the lateral façade
Figure: Stephan Trierenberg
For an extension of the building of Vienna music house, including staircase and elevator, the architectural office Rahm Architekten was searching for a building material, enabling a perfect implementation of the monolithic, sculptural character of the new access core. They found what they were looking for in Liapor lightweight concrete which met all structural and energetic requirements, too.
One of the most striking features of the music school at Vienna's Jesuitensteig is the new access core on the east side of the building. It comprises a staircase and a passenger elevator, thus allowing a totally new, barrier-free access to the three stories of the residential and administration building, which had been built at the end of the 18th century.
The extension was designed and implemented by the Vienna-based Rahm Architekten. They pursued clear goals here, in particular, as far as the geometry of the structure and the interaction between open and closed spaces are concerned: "The extension should be implemented as a monolithic, sculptural building structure, completely opening up towards the garden and exposing the liveliness of the building, in particular, by the people using the stairs," architect Hans Schartner explains.
Pure simplicity with a thickness of 40 cm
The architects made also high demands on the elevator shaft, base, roof and front side of the extension: "We were searching for a particularly pure and simple building material, contrasting and emphasizing the openness of the staircase with plain poetry," architect Hans Schartner states. The building materials, of course, had to meet all structural requirements that result from the complex geometry of the extension. "We found what we were searching for in Liapor lightweight concrete, allowing us to implement all design and structural ideas and specifications reliably. Furthermore, the building material also ensures the required thermal insulation, in fact, without additional insulating layer."
Following a ten-month planning period, the construction works for the access core started early 2017. The prelude to this was provided by a sample wall made of Liapor lightweight concrete, which has meanwhile found a use as a fixed stage element placed in front of the bandstand in the garden. This wall served all parties involved to gain valuable experiences, from which they could benefit for the actual construction later. With the building contractor being Aulos GmbH located in Linz, Weiner Motivbau GmbH and Wale Baugesellschaft mbH took over the construction works. The Liapor lightweight concrete was manufactured and supplied by Perlmooser Beton GmbH located in Vienna. A total of about 50 m³ of a class LC12/13 lightweight concrete was used for the new extension. In detail, the concrete was used to build the elevator tower, the base of the building as well as the roof and the front side with a thickness of 40 cm each. The newel as well as the treads of the stair themselves were made of normal concrete.
The staircase as a scale
In parallel to the new extension, the existing building was also renovated under the management of Rahm Architekten, and following an overall construction period of 14 months, Vienna Musikhaus could be officially opened in February 2018. "The staircase with the glass façade towards the garden is inspired by the airiness of the music and, makes the young musicians appear as climbing the staircase like scales," architect Hans Schartner states in conclusion. "The reduction of the materials used provides this relation between inside and outside with specific space."