DYCKERHOFF
Innovative architectural concrete façade on Neckarbogen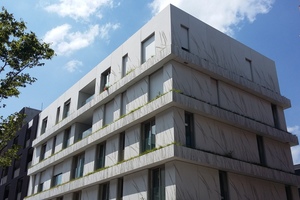 Figure: Dyckerhoff
In order to include the outdoor area, the apartments and common spaces are preceded by elements planted with grasses
Figure: Dyckerhoff
Several sophisticated architectural projects were completed in time for the German National Garden Show (BUGA) 2019 in Heilbronn. This city exhibition is the first component of the new Neckarbogen district. A building with a curtain façade made of architectural concrete designed with graphic elements attracts the attention in construction section "I". The precast elements were manufactured on the basis of Dyckerhoff white cement by Laumer Bautechnik located in Massing/Germany.
An innovative production process was used here, in which the formation of the cement paste layer is inhibited in certain parts according to a pre-defined graphical pattern. The contrast between the exposed aggregates and the undisturbed layer of cement paste results in shapes and images according to architectural and artistic demands. This procedure provided the more than 400 façade panels of building "I2" with a surface reminiscent of blades of grass.
400 façade panels of fair-faced concrete
The architecture of the five-story building was penned by the Architektenwerkgemeinschaft Weinbrenner. Single.Arabzadeh company based in Nürtingen. The architects especially conceived the layout of the apartments and rooms to provide shared homes for people with and without disabilities. In order to include the outdoor area, the apartments and common spaces are preceded with elements planted with grasses. The graphic design of the fair-faced concrete surface refers to the structure of these grasses. The building contractor of the I2 building is the Lichtenstern Wohnkonzept am Neckarbogen e.G. cooperative.
Gradually, the Neckarbogen district is to become a green urban quarter situated on the river. Here a relatively dense urban building development is being realized deliberately, allowing the urban quarter to develop to a diversified district with commerce, service providers and different types of housing. About 3,500 people are expected to live there in the future.
CONTACT
Dyckerhoff GmbH
Biebricher Straße 68
65203 Wiesbaden/Germany
+49 611 676-0