IAB Weimar
IAB Science Days successfully continued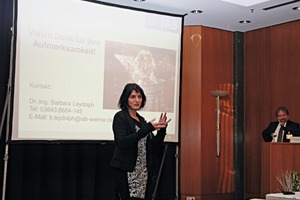 Figure: BFT International
After a good start in 2014, the second IAB Science Days were again ­successful; here the organizers Dr.-Ing. Ulrich Palzer (right), the Institute Director, and ppa. Dr.-Ing. Barbara Leydolph, Head of Research Department Building Materials
Figure: BFT International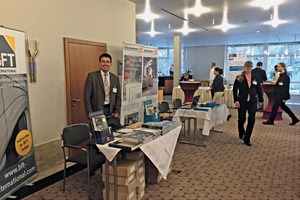 Figure: BFT International
Apart from the trade exhibition, here the information stand of Bauverlag BV GmbH, Güterloh with presented international trade magazines AT, BFT, Recovery, ZI and ZKG …
Figure: BFT International
"How can we build in a highly efficient and resource-conserving way simultaneously?" – This and many other challenges in relation to competitiveness, cost-effectiveness and sustainability were the topics of the IAB Science Days held on 11 and 12 November 2015 in Weimar.
The IFF Congress and the Pipeline Construction Congress as sections of the IAB Science Days presented innovations relating to the fields of building materials, simulations, proc-esses and equipment, concrete products and precast elements as well as gas, water, wastewater, local and district heating.
The event started with the...