WECKENMANN ANLAGENTECHNIK
Foundation stone for digitised pallet circulation system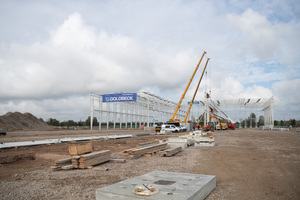 Figure: Weckenmann Anlagentechnik
The output of the precast concrete plant at Erfurter Kreuz will be 200 m²/h
Figure: Weckenmann Anlagentechnik
In June 2019 Weckenmann Anlagentechnik GmbH & Co. KG were awarded the contract from EMC European Modular Construction GmbH to supply a state-of-the-art precast concrete plant. Weckenmann has been commissioned to supply the machines and equipment for this flagship project in terms of automation and digitization.
On October 29, 2019 EMC European Modular Construction GmbH celebrated the laying of the foundation stone for one of the most modern precast concrete plants in the world in the Erfurter Kreuz industrial area. In the presence of Thuringia's Minister for Economic Affairs Wolfgang Tiefensee, the client celebrated with the entrepreneurs and planners involved in the project on the 75,000 m² site, where parts of the 16,000 m² production hall are already being built.
The production work for the pallet circulation system designed by Weckenmann is to be carried out at both production sites in Dormettingen, Baden Württemberg and Staßfurt, Saxony Anhalt and will be a pioneer in digital prefabrication.
Prefabricated parts for 2000 dwellings each year
By combining digitised planning processes and highly automated production processes, planning and manufacturing are digitally linked and therefore assume a pioneering role in the digital construction. The production range includes massively large-format wall and floor elements as well as semi-finished parts such as floor slabs and double walls.
The modularity of the production is realized by a sophisticated and complex formwork system from Weckenmann. The output of the plant will be 200 m²/h. The aim is to be able to produce prefabricated parts for 2000 dwellings each year.
Thanks to the end-to-end digitization and automation chain, including fully automated warehouse management and loading logistics, a major contribution is to be made to the individual, high-quality and cost-effective construction of apartments.
One of the pilot customers of this trend-setting project, the CG Group, represented by the Chairman of the Executive Board, Christoph Gröner, is clearly focusing on digital construction in order to meet the requirements of construction sites and new buildings, which will grow especially in large cities.
The comprehensive planning and conceptual work is well advanced and partly already completed. The production for this high-performance plant is already underway on schedule. A new type of pallet curing rack will already be delivered in June 2020 for the 16 m x 3.8 m pallets, which will enable a production of floor elements with camber. The production start for the plant is scheduled for March of 2021.
CONTACT
Weckenmann Anlagentechnik
GmbH & Co. KG
Birkenstraße 1
72358 Dormettingen/Germany
+49 7427 94930