LANXESS
Concrete manufactory uses color pigments for bee hotels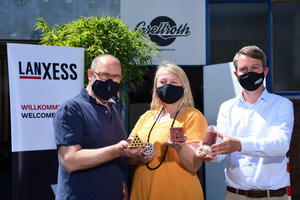 Figure: Lanxess AG
Christoph Schmidt (right), from the Lanxess Inorganic Pigments Business Area, presents applications of pigment in bee homes, jointly with Diana Schmidt-Grellroth and Bernd Grellmann from Grellroth
Figure: Lanxess AG
The square is red, the circle blue, and the triangle yellow. This linkage draws on the theory of colors and forms by the Bauhaus artist Wassily Kandinsky. The Grellroth concrete manufactory in Krefeld, Germany, rigorously implements this style for designing its bee hotels.
The nesting aids made from special concrete are called "beehaus" and are available in the trade as red cubes, yellow pyramids and blue cylinders. Weatherproof inorganic pigments from Lanxess ensure lasting color fastness. "The wild bees are especially attracted to the red variety, which is colored with the Lanxess pigment Bayferrox 130," says Diana Schmidt-Rothmeier, the owner of Grellroth. "The tubes of the red hotels are always filled before the others."
Hotels and pigments "Made in Krefeld"
The colorful bee hotels are a true Krefeld community project: Lanxess, the largest production site for inorganic color pigments worldwide, is located at a linear distance of only 10 km from the Grellroth headquarters. "Our pigments are delivered from Krefeld to the whole world and are used, for example, in veneers, plastics and, most of all, for coloring concrete. The fact that we with our products can help to create bee hotels in the Bauhaus style and, on top of it, "Made in Krefeld" pleases us tremendously," says Christoph Schmidt of the Lanxess Inorganic Pigments business area.
Survival aids for hermits
The "beehaus" offers wild bees threatened with extinction an excellent possibility for nesting and overwintering. Whereas honeybees live socially by the thousands in beehives, wild bees are primarily solitary and the approx. 500 different species of wild bees make a variety of demands on their nesting places.
Because the holes have different diameters, they attract different species of wild bees. They lay their brood cells into narrow and smooth tubes, and they feed the eggs with nectar and pollen. The bee closes the tube with loam until the hatched larvae open them again in spring and fly out. Then the hives can be simply cleaned with a thin brush.
Easy to care for and robust
Insect hotels are usually made of wood or the stems of plant material. Bamboo tubes and other organic nesting boxes often contain splinters that can injure the bees and their sensitive wings. The advantage of concrete is that the walls made with it are beautifully smooth. Concrete is, moreover, an extremely robust material and does not need special care.
Concrete manufactory sets great store on sustainability
Designers, technicians and skilled craftsmen work for Grellroth. "Apart from design objects, we also create and build concrete furniture," says Diana Schmidt-Rothmeier, the owner of Grellroth. "At customers' request we also create one-offs." But to the team, sustainably produced items are of primary importance. Lanxess pigments contribute to this aim, because they are made of iron turnings and recycled scrap metal.
CONTACT
Lanxess Deutschland GmbH
Kennedyplatz 1
50569 Cologne/Germany
+49 221 8885-0