BIBKO
ComTec recycling system installed in Fuchs precast plant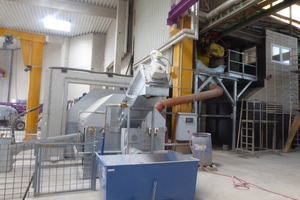 Figure: Bibko
The precaster Fuchs Fertigteilwerke GmbH decided to invest in a Bibko residual concrete recycling system type ComTec20
Figure: Bibko
The precast plant Fuchs Fertigteilwerke GmbH is a family-managed company with a long tradition and more than 60 years' experience in the manufacture, sale, marketing and development of structural precast elements. In order to solve the existing waste management problem of residual concrete as well as the washwater that occurs in the process in the Fuchs Röttenbach plant in Germany, the company decided to invest in a type ComTec20 Bibko residual concrete recycling system.
Delivery was preceded by an appropriate project planning phase, in the course of which the customer's specific requirements and the local conditions were analyzed. The resulting machine is set up on ground level and is equipped with a feeding hopper system, into which the residual material is discharged on ground level. The material is taken up by a wheel in the hopper system and discharged into the recycling machine. For washing out the concrete hopper in the precasting plant, a hopper conveyor funnel was installed with pipe connection to the wash-out plant. In this way, the hopper conveyor can travel directly over the funnel, discharge the residual material, wash it out and proceed directly to the mixing plant for recharging.
The ComTec 20 system supplied offers a recycling capacity of 20 m³/h, was hot-dip galvanized and is fitted with an aluminum cover. In the front area, sand and gravel are taken up by the hopper elevator and discharged into the feed funnel of the spiral conveyor. In the spiral conveyor, sand and gravel are drained and discharged. The spiral flanks consist of highly wear-resistant Creusabro 4800 steel. The spiral conveyor itself runs in an elastomer bed and offers in this combination a long service life as well as low-noise operation.
The excess water and the ultrafine particles below 0.2 mm are discharged via a special outlet system into the recycling water basin recessed in the floor. The recycling water is returned to the mixing process by a special pump, ensuring in this way continuous circulation, which keeps water and density as constant as possible.
CONTACT
Bibko Umwelt- und Reinigungstechnik GmbH
Geschäftsbereich Platz
Steinbeisstr. 1+2
71717 Beilstein/Germany
+49 7062 9264-0