LIAPOR
Bauhaus style – reinterpreted with lightweight concrete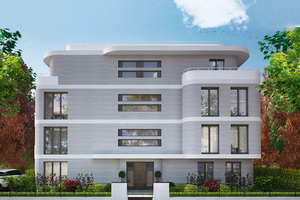 Figure: LenzWerk Holding GmbH
The rounded corners of the architecture of the White Villa and the continuous balcony parapets consciously draw upon the Bauhaus style
Figure: LenzWerk Holding GmbH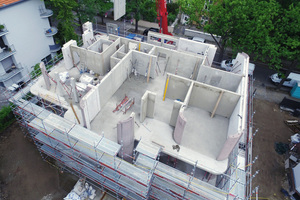 Figure: LenzWerk Holding GmbH
All of the outer and internal walls of the four-story buildings were erected with Liapor lightweight aggregate concrete elements
Figure: LenzWerk Holding GmbH
The White Villa in Berlin's Westend consciously draws upon typical stylistic elements of the Bauhaus period and transposes them into a modern contemporary ambience. The building shell of Klimapor wall elements, consisting of lightweight aggregate concrete with open structure, provides here a special high level of building comfort.  In the three-story building, with seven dwelling units of 80 to 260 m², one finds, for example, classic Bauhaus style elements featuring external walls with rounded corners and continuous round balcony parapets of powder-coated aluminum – reminiscent of the Bauhaus Quarter in Tel Aviv, proclaimed a World Cultural Heritage site in 2003.
External walls of lightweight aggregate concrete with open structure
Highlights such as the light-filled rooms 2.80 cm high – with floor-to-ceiling windows that follow the generously dimensioned and timeless floor plans – provide the special living comfort of the White Villa. In addition, there are already integrated kitchens of workshop quality, private underground garages and cutting-edge building services.
Whereas the internal walls were made of lightweight aggregate concrete with closed structure of LC16/18 compressive strength, all exterior walls consist of LAC2 Liapor lightweight aggregate concrete with open structure 36.5 cm thick. These are in the form of Klimapor elements, made and delivered by H+L Baustoff GmbH in Glauchau, Germany. "Liapor lightweight aggregate concrete with open structure is excellently suited for creating monolithic building shapes and provides here the desired continuous roundings and uniform planarity," explains Ursula Seeba-Hannan. "It satisfies the structural requirements, such as bearing capacity, fire and sound protection and provides the specified energy efficiency without additional insulation. And, not least, Liapor lightweight concrete reflects our sense of sustainability and economy with its simple, fast and cost-efficient implementation."
Multi-talent expanded clay spheres
The main constituent of Klimapor wall elements is lightweight Liapor expanded clay spheres which are glued to each other with cement as binder in such a way that the so-called open structure of the aggregate remains as interstices. The many air voids in the interstices, as in the expanded clay spheres, themselves provide the wall elements with special lightness, but still with stability and resistance to pressure.
In addition, they provide outstanding thermal insulation and heat storage capacity for the lightweight Klimapor wall elements – as well as sound protection and F90-class fire protection. Liapor wall elements, owing to their non-capillary structure, are moreover insensitive to frost and moisture. Another advantage: "The wall elements are breathable and ensure air-humidity exchange – a decisive aspect for a healthy and comfortable indoor climate," says Sandra Kirmse of H+L Baustoff GmbH.
Structural shell in record time
"The special challenge in producing the elements represented the round edges of the external wall elements, for which we developed special formwork," explains Sandra Kirmse. The high degree of prefabrication and the exact fit of all elements over the total surface area of around 11,600 m² then enabled especially fast and cost-efficient construction progress.
In this way, the structural shell beginning with the ground floor was finished in the summer of 2017 within three months. Soon afterwards, all apartments could be handed over to the new owners who, since then, are pleased about their exclusive homes with maximum living comfort and special architecture in the historically significant quarter.
CONTACT
Liapor GmbH & Co. KG
Industriestr. 2
91352 Hallerndorf-Pautzfeld/Germany
+49 9545 448-0