BT innovation
AgrarElast and MultiElast: New waterproofing systems of B.T. innovation GmbH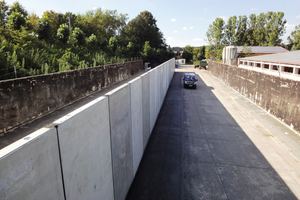 Figure: BT innovation
AgrarElast now allows the repair of clamp silo plants in compliance with AwSV
Figure: BT innovation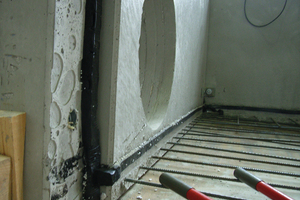 Figure: BT innovation
MultiElast enables the sealing of construction joints as well as structural joints in shell construction ...
Figure: BT innovation
Only construction products with the corresponding national technical approval are allowed to be used for the refurbishment and new construction of facilities for storing and filling of liquid manure, slurry and silage effluents (German abbreviation: JGS) as well as of biogas plants. AgrarElast is suitable for sealing exactly those storage and filling facilities – clamp silo plants, fodder fermentation silos and storage slabs for solid manure.
AgrarElast applicable for horizontal and vertical joints
The steady AgrarElast is a self-contained waterproofing system for horizontal and vertical joints. The sealant and the associated primer A (asphalt) as well as primer B (concrete) meet the statutory requirements for verification of suitability, thus providing plant operators and specialized companies with a legally compliant solution based on the approval Z 74.62-176 granted by the German Institute for Construction Technology (Deutsches Institute für Bautechnik). AgrarElast is suitable for sealing all joint combinations between concrete and asphalt.
It is easy and safe to process and exhibits only low shrinkage when hardening. In comparison to other approved systems based on polyurethane (PU) and bitumen, AgrarElast convinces by its very high temperature resistance. Owing to the high tolerance to deformation of 12.5 %, AgrarElast is also suited to movement joints so that the joints are accessible by vehicles or by foot. In order to comply with the high requirements for permanent sealing of JGS facilities and biogas plants, AgrarElast is subject to particularly intensive product monitoring and material testing.
MultiElast for the sealing of joints between precast elements
MultiElast is a fiber-reinforced sealing tape free of bitumen. This tape can be used for the sealing of construction joints as well as structural joints in shell construction against pressurized water. The tape expands the range of BT sealants and waterproofing systems, allowing for additional applications when it comes to waterproofing against pressurized water.
If precast construction and cast-in-situ construction are combined with each other, there are both structural joints between precast elements and construction joints to the cast-in-situ concrete. MultiElast is the only joint tape sealing both types of joint verifiably. This simplifies the work procedures considerably and avoids problems at the transition of different types of joint tapes. Thus, MultiElast allows for sealing of different types of joints, construction joints and precast element joints in a safe and permanent manner. Apart from this application, i.e. a closed sealing of construction combining precast elements and cast-in-situ concrete, MultiElast can also be used for the sealing of precast element joints up to 10 m of pressurized water. Processing the tape between precast elements is possible up to a temperature of -5 °C.
Reliable solution for basement construction
For the construction of basements made of precast concrete elements built 5 to 10 m deep into the groundwater or for the installation of watertight reservoirs with a height of 5 to 10 m, the civil engineer now gets a mature, approved and reliable solution with MultiElast. The new waterproofing system also enables installing manhole elements up to 10 m deep into the groundwater.
For manholes and utility tunnels made of precast concrete elements where the MultiElast joint tape has already been pre-mounted at the factory, the separate wall panels can be assembled to a manhole on the construction site directly, sealing them immediately in this process. Inside, cast-in-situ concrete is placed directly to the precast elements, in order to supplement the ground slab. Due to the use of MultiElast joint tape, the construction joint to the ground slab is also waterproof. If, on the contrary, only precast concrete elements are connected to each other, MultiElast is used as a crushing joint tape for fast sealing of structural joints. Both types of construction are possible and during construction works it is now easier to produce a secure connection at the contact points between construction joints and structural joints. The consistent application of MultiElast does no longer require different sealing systems at the transition from precast construction to cast-in-situ concrete.
CONTACT
Contact:
B.T. innovation GmbH
Sudenburger Wuhne 60
39116 Magdeburg / Germany
Phone: + 49 391 7352 0