HERRENKNECHT FORMWORK
25,000 tunnel segments for more than 300,000 people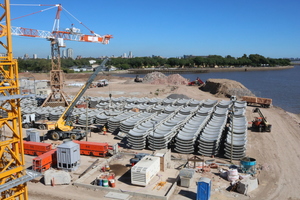 Figure: Herrenknecht Formwork
At present, 25,000 concrete tunnel segments are being produced in the Argentine capital of Buenos Aires
Figure: Herrenknecht Formwork
Figure: Herrenknecht Formwork
Demolding of the tunnel segment by means of a vacuum lifter
Figure: Herrenknecht Formwork
At present, 25,000 concrete tunnel segments are being manufactured in the Argentine capital of Buenos Aires. After completion of the works, more than 300,000 people will benefit from this: the second flood relief tunnel for the River Vega, passing the metropolitan city from west to east, will double the discharge capacity, hence reducing the risk of flooding considerably.
According to the Environmental Atlas of Buenos Aires, rainfall had tripled between 1980 and 2010 in comparison to records kept from 1900 to 1930. Moreover, events of heavy rainfall taking place in ever shorter intervals prevent water from infiltrating properly. For this reason, the city has initiated the construction of a second flood relief tunnel in August 2016. Apart from the launching shaft with a diameter of 35 m and a depth of 25 m, the project comprises a tunnel with an overall length of 8.4 km, where a section of 5.9 km is excavated with a Herrenknecht EPB Shield (Ø 6,070 mm) and lined with tunnel segments (having an inner diameter of 5,300 mm).
70 tunnel segments produced in 10 hours
The Roggio-Cartellone-Supercemento consortium is manufacturing the tunnel segments on a circulation system of Herrenknecht Formwork, comprising 48 segment molds, reinforcement supply, concreting station and curing tunnel with steam generator. Tailor-made handling equipment provides for perfectly working logistic processes. Thanks to this equipment, the team produced up to 70 tunnel segments in 10 hours, thus exceeding the production specifications.
Project engineer, Agustín Guastavino, considers an excellent ring design, a high quality of the molds, the right concrete mixture as well as well skilled workers as the most important factors for a successful tunnel segment production. The manufacturing process is running smoothly although the team in Buenos Aires has only limited experience in tunnel segment production so far. Having already produced more than 24,000 tunnel segments, the consortium has almost achieved their objective. "The experts of Herrenknecht Formwork have designed and supplied the tunnel segment factory according to your needs and requirements with great effort and responsibility," Guastavino states. "We thank the team for the great cooperation and wish them to complete the project successfully."
CONTACT
Herrenknecht Formwork Technology GmbH
Schlehenweg 2
77963 Schwanau/Germany
+49 7824 302-2822