CONCRETE SHOW/INFORMA
12th Edition of the Concrete Show South America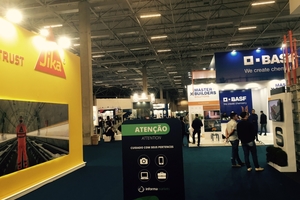 Figure: BFT International
More than 18,000 guests visited this year's Concrete Show South America in the Centro de Exposições Imigrantes São Paulo
Figure: BFT International
From 19 to 21 August 2020 the Concrete Show South America will take place already in its thirteenth edition: this time in cooperation with the World of Concrete. At this year's event in the Centro de Exposições Imigrantes in São Paulo, numerous Brazilian and international exhibitors presented their goods and services to around 18,500 visitors.  The trade show was traditionally rounded off by many seminars in the conference section, where some 3,500 delegates were welcomed.
After several years of recession Brazilian the economy seems to be slowly recovering. Although the strong years around the FIFA WM 2014 and the Olympic Summer Games 2016 were followed by an economic dip, incoming orders are again increasing, also in the concrete industry.
Exhibitors to the most part satisfied
The statements of the exhibitors ranged from "cautiously optimistic" to "outstanding." CEO Klaus Holzberger of the Brazilian plant engineering company WCH reported to have received around 80 specific inquiries during the three days of the show. "We are very satisfied. Most of all, our concept of "traveling factories" has by now become a genuine sales hit." Alesandra Rico of the German engineering company Weckenmann, which shared a joint exhibition stand with WCH, came to a similar conclusion: "Last year, the economic environment in Brazil was still so bleak that not even the Concrete Show took place. By now, the situation looks a great deal better."
Vollert Anlagenbau represented also the companies BFS, Kraft Curing mbk, Paul, Ratec and Teka. Vollert's South America representative Wesley Gomes also expressed the situation positively: "Thanks to the broad presence with several different business sectors, there is always business. With our solutions for intralogistics and shunting processes, we were able to generate good turnovers, even in the lean years of the brazilian precast sector."
Sales Manager Eduardo Muccillo of Bianchi Formas also reported a number of good trade contacts that resulted during these three days: "We just recently equipped a precast plant in Uruguay and the next orders are around the corner."
Other local and international exhibitors, such as Agostini, BASF, Bikotronic, Brecon, Columbia, Elematic, Eurobend, EVG, HawkeyePedershaab, Hebau, Liebherr, MC Bauchemie, Menegotti, Peri, Progress, Putzmeister, Schlatter, Schnell, Schwing Stetter, Sika, Torri, Trimble/Tekla and Wacker Química made use of the opportunity for presentation to the trade public. In addition, software suppliers and associations, specialized publishers and research institutes completed the trade show.
CONTACT
Informa
Av. das Nações Unidas, 7221, 22º andar
São Paulo (SP)/Brazil
+ 55 11 4632-0200